Based on data from the National Association of Realtors® (NAR), boosted by big gains in the Northeast and Midwest, existing-home sales made a comeback in March and are slightly up from a year ago.

Sales of existing homes in March (including single-family homes, townhomes, condominiums and co-ops), grew 5.1 percent to a seasonally adjusted annual rate of 5.33 million from a downwardly revised 5.07 million in February. Sales increased in all of the nation's four major regions and are slightly higher (1.5 percent) than March 2015.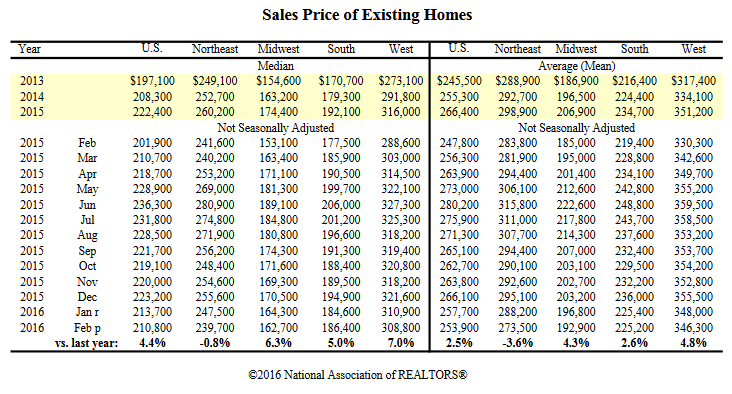 NAR's chief economist, Lawrence Yun, indicated that home sales had a nice comeback in March on the heels of February's unusually large tapering. "Closings came back in force last month as a greater number of buyers – mostly in the Northeast and Midwest – overcame depressed inventory levels and steady price growth to close on a home," Yun said. He added that, "Buyer demand remains sturdy in most areas this spring and the mid-priced market is doing quite well. However, sales are softer both at the very low and very high ends of the market because of supply limitations and affordability pressures."

Key Data Takeways
The median existing-home price for all housing types in March was $222,700, up 5.7 percent over March 2015 ($210,700). This makes 49 straight months year-over-year increases.
Total housing inventory at the end of March grew 5.9 percent to 1.98 million existing homes available for sale, however this is 1.5 percent lower than a year ago (2.01 million). Unsold inventory sits at a 4.5-month supply at the current sales pace, a bump up from 4.4 months in February.
Distressed sales (short sales and foreclosures) – dropped to 8 percent in March, down from 10 percent both last month and a year ago. Seven percent of March sales were foreclosures and 1 percent were short sales.